Main content starts here, tab to start navigating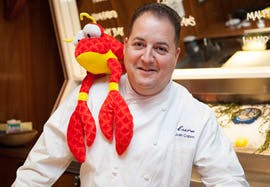 Josh Capon
Executive Chef
Josh Capon is the seasoned executive chef and partner behind Lure Fishbar, B&B Winepub and El Toro Blanco in New York City.
Capon's interest in the culinary arts was cultivated from an early age with memories of home-­‐cooked meals at family gatherings and various jobs held in the food service industry. While attending college at the University of Maryland, he spent his free time preparing meals for eager friends and fraternity brothers. Capon followed his passion for cooking and transferred to Johnson & Wales University. While in culinary school, Charlie Palmer selected Capon as the culinary "extern" at Aureole, Palmer's acclaimed Manhattan restaurant.
After graduating in 1994, Capon accepted an offer from Palmer to assist in the opening of The Lenox Room. From there, he went on to work for David Burke at the Park Avenue Café, where he was offered an exchange opportunity to work in Europe. He spent the next year honing his cooking skills in seven different restaurants throughout France, Italy, Germany and Spain.
Drawing upon his epicurean experiences abroad back in New York, Capon became the sous chef at The St. Regis Hotel's Astor Court under Chef Gray Kunz in 1997. While reconnecting with Charlie Palmer, he was named executive chef of Alva, Palmer's American bistro. Capon left Alva in 1999 to work for Matthew Kenney as the executive chef for Matthew's. Kenney then tapped Capon for Canteen where he served as executive chef for three years.
In 2004, Capon became the executive chef of Lure Fishbar, a sophisticated seafood restaurant with a standout sushi bar owned by John McDonald and Joshua Pickard. In 2010, McDonald and Pickard asked him to be a partner at their newest restaurant, B&B Winepub. At B&B, Capon serves a satisfying menu of classic dishes as well as inventive takes on favorites for the upscale American wine pub, also in SoHo. In 2012, Capon opened El Toro Blanco in New York City's West Village as chef partner, where he has created a pan-­‐Mexican menu with an emphasis on seasonal grilled items.
Capon is the four-­‐time winner of the People's Choice award at the New York City Wine & Food Festival's Burger Bash event for his "Bash-­‐Style" burger, a juicy patty topped with American cheese, pickles, caramelized onion and bacon jam. He has appeared on numerous television shows including The Chew, Rachael Ray Show, Live with Regis and Kelly, CBS Early Show, TODAY and Food Network and has been featured in The New York Times, New York Magazine and other media outlets.
Capon currently resides in New York City with his family. He enjoys spending time with family and cooking with his two kids, Amanda and Max.